Being a plumber isn't always about business, but sometimes the things I do while I'm not at work relate to my job-even if it is in a small way. I know I am stretching it a bit, but today I want to talk about my grill: a Medallion by Vermont Castings. How does this relate to my work? Well, Vermont Castings, in addition to making grills, also makes a number of fireplaces-that I occasionally install.
With summer coming to an end, I am trying to use the grill as much as possible. There's nothing like the taste that a grill gives to a piece of meat and other foods that are cooked on it. Sure, there are other methods of cooking that produce good flavors and food, but none can come close to the charred flavor of the grill.
Different people like different types of grills and there are a lot of different varieties and brands on the market. I like my Medallion Grill for a number of reasons. First of all, I like the look of it. The stainless steel finish makes it look sleek and provides protection from rust as well. I spent a good chunk of money for this grill, but it has been worth it. Naturally, since I spent a lot of money on the grill, I do what I can to take care of it-including covering it up after I am done using it.
The grill features a storage cabinet for the propane tank, keeping it concealed from view and protecting it against the weather-something that I really like about it. When the propane tank is exposed, the handle can become rusty and make it hard to reuse. And for the times that I want to grill late night, the grill comes equipped with an adjustable light so I can make sure my meat is cooked the way I want it to be, even if it is dark outside. The face of the grill lid also has a thermometer so I know when the internal temperature is just right and will cook my food to perfection.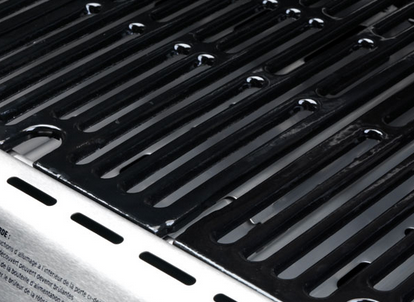 The actual grill surface is designed in a way that the heat from the flames are evenly distributed, which means my meat will be cooked evenly. The design of the grill top makes it easy to clean when the food has been cooked. It also is equipped with a stainless steel sear plates, which allow the juices from meat to be directed away from the flames of the grill, preventing flare-ups. It also features a top shelf, so I can keep my food that is done warm until it is time to serve it.
There are also condiment shelves and side plates that provide enough space for me to have a place for my seasonings and sauces and providing a place for a serving plate to put the finished food on. In addition, there are hanging bars so I have a place for my grilling utensils. There are also a lot of other extras that can be purchased, such as a griddle, side burners, utensil sets, and a cover to protect the grill. I also know that if I ever need to replace something on the grill, that individual parts and pieces are available to order. Can't beat that!